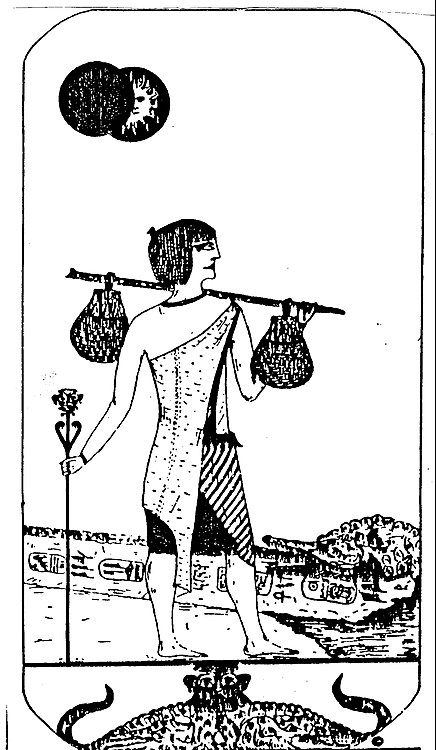 Ra about The Choice:
Ra Wrote:88.16 Questioner: I will also assume, and I may not be correct, that the present list that I have of twenty-two names of the tarot cards of the Major Arcana are not in exact agreement with Ra's original generation of the tarot. Could you describe the original tarot, first telling me if there were twenty-two archetypes? That must have been the same. Were they the same as the list that I read to you in a previous session or were there differences?

Ra: I am Ra. As we have stated previously, each archetype is a concept complex and may be viewed not only by individuals but by those of the same racial and planetary influences in unique ways. Therefore, it is not informative to reconstruct the rather minor differences in descriptive terms between the tarot used by us and that used by those of Egypt and the spiritual descendants of those first students of this system of study.

The one great breakthrough which was made after our work in third density was done was the proper emphasis given to the Arcanum Number Twenty-Two which we have called The Choice. In our own experience we were aware that such an unifying archetype existed but did not give that archetype the proper complex of concepts in order to most efficaciously use that archetype in order to promote our evolution.
Ra Wrote:89.26 Questioner: All right; I'll have to do that. Ra stated that a major breakthrough was made when proper emphasis was put on Arcanum Twenty-Two. This didn't happen until Ra had completed third density. I assume from this that Ra, being polarized positively, probably had some of the same difficulty that occurred prior to the veil in that the negative polarity was not appreciated. That's a guess. Is this correct?

Ra: I am Ra. In one way it is precisely correct. Our harvest was overwhelmingly positive and our appreciation of those which were negative was relatively uninformed. However, we were intending to suggest that in the use of the system known to you as the tarot for advancing the spiritual evolution of the self a proper understanding, if we may use this misnomer, of Archetype Twenty-Two is greatly helpful in sharpening the basic view of the Significator of Mind, Body, and Spirit and, further, throws into starker relief the Transformation and Great Way of Mind, Body, and Spirit complexes.
In these above both quotes Ra points out that if efficaciously used, this Archetype promotes the evolution. It is an unifying Archetype.
More quotes about this Archetype:
Ra Wrote:77.12 Questioner: That is correct. I am asking with respect to this particular sub-Logos, our sun.

Ra: I am Ra. This query has substance. We shall begin by turning to an observation of a series of concept complexes of which you are familiar as the tarot.

The philosophy was to create a foundation, first of mind, then of body, and then of spiritual complex. Those concept complexes you call the tarot lie then in three groups of seven: the mind cycle, one through seven; the physical complex cycle, eight through fourteen; the spiritual complex cycle, fifteen through twenty-one. The last concept complex may best be termed The Choice.

Upon the foundation of the transformation of each complex, with free will guided by the root concepts offered in these cycles, the Logos offered this density the basic architecture of a building and the constructing and synthesizing of data culminating in The Choice.
Ra Wrote:77.13 Questioner: Then to condense your statement, I see it meaning that there are seven basic philosophical foundations for mental experience, seven for bodily, seven for spiritual, and that these produce the polarization that we experience sometime during the third-density cycle. Am I correct?

Ra: I am Ra. You are correct in that you perceive the content of our prior statement with accuracy. You are incorrect in that you have no mention of the, shall we say, location of all of these concept complexes; that is, they exist within the roots of the mind and it is from this resource that their guiding influence and leitmotifs* may be traced. You may further note that each foundation is itself not single but a complex of concepts. Furthermore, there are relationships betwixt mind, body, and spirit of the same location in octave, for instance: one, eight, fifteen, and relationships within each octave which are helpful in the pursuit of The Choice by the mind/body/spirit complex. The Logos under which these foundations stand is one of free will. Thusly the foundations may be seen to have unique facets and relationships for each mind/body/spirit complex. Only twenty-two, The Choice, is relatively fixed and single.
Ra, 88:24 Wrote:When, at length, the student had mastered these visualizations and had considered each of the seven classifications of archetype, looking at the relationships between mind, body, and spirit, we then suggested consideration of archetypes in pairs: one and two; three and four; five; six and seven. You may continue in this form for the body and spirit archetypes. You will note that the consideration of the Significator was left unpaired, for the Significator shall be paired with Archetype Twenty-Two.
Ra, 67:30 Wrote:Each seeker will experience each archetype in the characteristics within the complex of the archetype which are most important to it. An example of this would be the observation of the questioner that the Fool is described in such and such a way. One great aspect of this archetype is the aspect of faith, the walking into space without regard for what is to come next. This is, of course, foolish but is part of the characteristic of the spiritual neophyte. That this aspect was not seen may be pondered by the questioner.
There are probably more additional quotes that I've missed about this Archetype. I want to gather them together firstly, before trying to put them into concepts.