The Sexual Assault of Men and Boys
Don't get me wrong! I'm all for woman's rights. I mean...I would never want to see any women in my family horribly treated by some guy. But with the current climate of dozens of men that have been falling like dominoes, while women, who also harass men and boys (although under-reported) are not discussed at all in the media makes me wonder what's really going on here.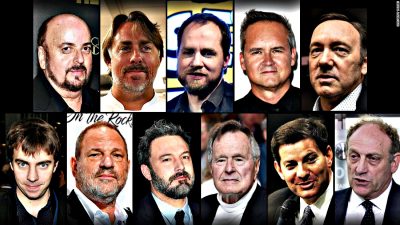 One only need to google "women who harass men" or "women who molest boys" (and click images) to get a completely different picture of the way they are totally portraying women as "Only" victims in sexual harassment claims and men as "Only" antagonist in sexual harassment claims.
So, I have to ask the question...Why aren't men fighting back? Now, I'm not saying none of these allegations aren't true, but I just don't think that it's fair to portray a one sided view of this phenomenon. Many of these men are being accused, tried in the media, castigated and fired from their positions without any investigation or a chance to air their side of the story. It makes me wonder if much of this is just another attempt at the Illuminati elite controlled media to deflect attention away from real issues in the world such as loss of freedom, corrupt banksters, UFOs, alien abductions, demonic possessions, secret societies, and satanism.
Are some women in the feminist movement just using this issue in their quest for power? Furthermore, will all of this put undue pressure on male female social relations which are already somewhat strained? We need to step back and look at all of this rationally and fairly and consider the consequences that this may have down the road.
Again, I'm not saying none of these allegations aren't true. But many of us have heard of powerful women that harass men in the workplace also. Why doesn't this come up in these conversations? We've also heard of women in education that have had sexual tristes with their male students. Why haven't they mentioned it? Maybe it's because they are not high profile enough? I don't know. But, I'm sure if some investigative journalist were to dig deep enough, they're likely to find just as many women in Hollywood, Madison Avenue, Wall Street and even Capitol Hill that have had similar claims against them in the past that somehow went unchecked.
With more than 2000 men filing sexual harassment charges with the EEOC last year in 2016 (mostly against women in the workplace), where are these men and why aren't we hearing their stories? Why are guys just taking this quietly? Where are the men's advocacy groups? Where's their media platform? It really does beg the question...Why aren't men fighting back?
Ref:
http://www.nbcnews.com/id/19536167/ns/bu...inRNdQrJkj
https://www.plbsmh.com/yes-men-can-be-se...workplace/